Christmas – then Thanksgiving MODERN!
PAINT THE HOLIDAYS via ZOOM! (online)
October 5 – 27, 2020
Beginners through Advanced
Pick Your Acrylic Painting Sessions
2.5 Hours Each, 1 pm – 3:30 pm AZ Standard Time
LIVE from my Studio – Step by Step Instruction Individual assistance during the class.
Price: $28 per session; Register by September 20
Supply list provided after registration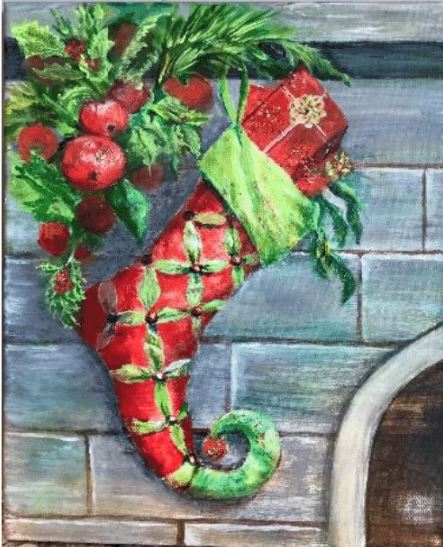 Christmas comes first
BEGINNERS! No Drawing Necessary.
Sessions 1,2 and 3: 'How-To Make' then Create
Oct. 5 Monday, 1 – 3:30 p.m. You will paint 3D balls that will morph into a pomegranate, and an ornament. Next: Learn to make flowing ribbons that create movement. The session ends with landscape: snowman with a scarf (ribbon morphed), mounds of snow, distant line of trees
Oct. 7 Wednesday, 1 – 3:30 p.m. A Charlie Brown tree; snow – laden, fir boughs that soften a scene, and stacked presents
Create Your Original Compositions! Design borders for two cards and two paintings. No Drawing Necessary. You have a few days to work it out. Success without Stress starts with simplicity! Don't put everything you've learned into one painting. Rather, make several smaller designs/paintings.
Oct. 14 Wednesday, 1 – 3:30 p.m. Shading and shadows-consistency is key. They add depth perception.
LET'S PAINT!
I will be one click away.
INTERMEDIATES/ADVANCED Session 4 & 5 – Christmas Cheer! (Drawing is not necessary)
Oct. 16 Friday 1 – 3:30pm
Oct . 19 Monday 1 – 3:30pm
Sweet Memories. A memory that brings a smile to your face will be joyous for you to paint and share. There is time for ONE image of your choosing (realistic). Additionally, there is the Help Session of 2 hrs. to work ahead. If you have an image that has been tried and failed, the Help Session is is an opportunity to
get a fresh perspective and suggestions.
Subject Ideas: Christmas Stocking,Amaryllis, Crystal Still Life
Christmas Stocking – Your painting of a loved ones' sock will be a treasured keepsake. I recommend a canvas size of 11 x 14 if highly detailed.9x 12 minimum size.
Flower Power – TheAmaryllis. It makes a beautiful card, especially on a cream-toned background. Accent with gold. Canvas size depends on how many blooms and if you will put on a bow, place it in a vase or a pot–on and on. Remember, larger is easier to paint than smaller.(9 x 12" minimum for single bloom)
Crystal Still Life — I equate the holidays with much laughter and many smiles whilst toasting the blessings of family, friends, and life!
ALL LEVELS — HELP! Session (NO CHARGE)
Oct. 19 Monday I'll be available to help you from 10:00 a.m. to Noon via Zoom!
Thanksgiving MODERN
"Over the River and Through the Woods"
Session 6 – All Levels- COLOR AND CONTRAST
October 21 – 1 – 3:30 pm.
Your work with ribbons has set you up for success to make colorful roadways, rivers and hillsides in a contemporary style. Add a couple of acorns and oak leaves – fresh art!
Session 7 – BEGINNERS – CARD BORDERS (leaves and pumpkin)
October 23 – 1 – 3:30 pm.
Vine maple leaves will provide movement, and the pumpkin, an anchor. You may use any reference material you like.
Session 8 & 9 – INTERMEDIATE /ADVANCED – Go Modern!
October 27 – 1 – 3:30 pm.
October 30 – 1 – 3:30 pm.
S-T-R-E-T-C-H Be Not Afraid. This will be fun, not an ordeal. A great painting happens when the artist is emotionally connected. To incorporate that feeling into a painting is a study in color, texture, and often, simplification of shapes.
We'll do some small, fast experimental paintings in a variety of styles. You might discover a new side of your artistic self.
REGISTRATION
---
2019 Summer Workshops
Escape the Heat – Learn to Paint!
Explore Your Inner Creativity with Acrylics
6 Sessions: 1:30 p.m. to 3:30 p.m.
Tues & Wed: June 12 & 13
Wed. & Thurs: June 18 & 19, 25 & 26
Location: Artist's Studio – Tempe
Price: $180
Maximum class size: 4
This is a no-stress class geared to the student who hasn't held a brush since childhood. You will paint two pictures. You will learn the basics about color, contrast and composition. Supplies are provided and drawing is not necessary!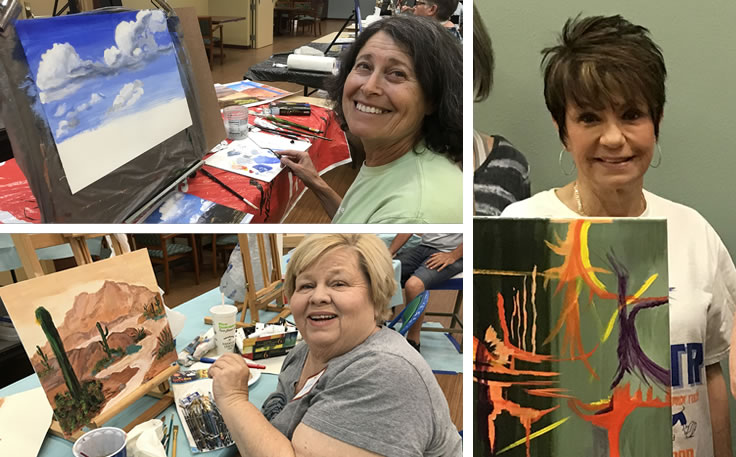 Intermediate Level – Acrylics!
July 2019

6 sessions: 12:30 p.m. to 3:30 p.m.
Tuesdays and Wednesdays, July 9 & 10; July 16 and17; July 23 and 24
Location: Tempe – Artist's Bldg.
Price: $180
Maximum class size: 10
A continuation for advanced beginners and intermediate level students. We will all paint the same image, and I will demonstrate my techniques. Contact me for the full class description.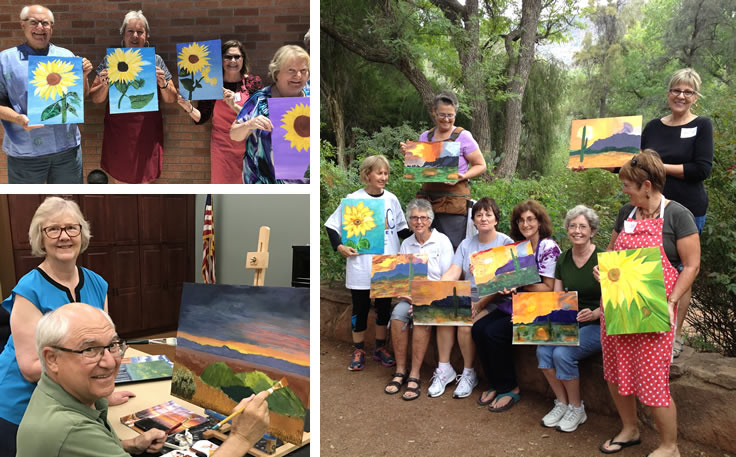 Private and semi-private classes. These can be scheduled in one or two hour sessions at mutually convenient times.
Sue Ann is happy to answer questions.
Please feel free to contact her at
480-982-1336
---
What Students Have Said
Over the years I've signed up for many art classes, but none that I enjoyed more than the one I took with Sue Ann Dickey. Beyond being well-structured and fun, she taught so many useful techniques I had never seen before. She also showed us many of her paintings broken down into the steps she took as she worked on them which I found most helpful in understanding how I could go about my own paintings. After her well-planned presentation, as she gave the students time to paint, I loved the personal attention and positive remarks she gave each of us. What an enjoyable teacher she is!
Bobbi K.
I have taken a number watercolor, acrylic and oil painting classes, including classes at Scottsdale Artists School and the Shemer Art Center. The classes I have taken from Sue Ann Dickey rank at the top of my experiences. She is a skilled artist and instructor. She is adept in explaining concepts and processes while providing inspiration and encouragement in a nurturing environment. I highly recommend her and will be first in line to sign up for future classes!
Nancy R.
Sue Ann is an accomplished artist and she knew how to teach. I was a teacher for 20 years, so I knew what she faced with that large class. She had a calm, cheerful demeanor. She communicated clearly and interacted with each person at their level. No one was ignored, and she kept it moving. I ranked her 'Excellent' in every category.
Anonymous ASU student review
Sue takes the pain out of painting. This is my third class with her. She's an amazing instructor and a genuinely nice person.
Anonymous ASU student review
In my opinion, she's the best painting instructor in the Valley.
Anonymous ASU student review