Escape the Heat – Learn to Paint!
Explore Your Inner Creativity with Acrylics
June 2019
6 Sessions: 1:30 p.m. to 3:30 p.m.
Tues & Wed: June 12 & 13
Wed. & Thurs: June 18 & 19, 25 & 26
Location: Artist's Studio – Tempe
Price: $180
Maximum class size: 4
This is a no-stress class geared to the student who hasn't held a brush since childhood. You will paint two pictures. You will learn the basics about color, contrast and composition. Supplies are provided and drawing is not necessary!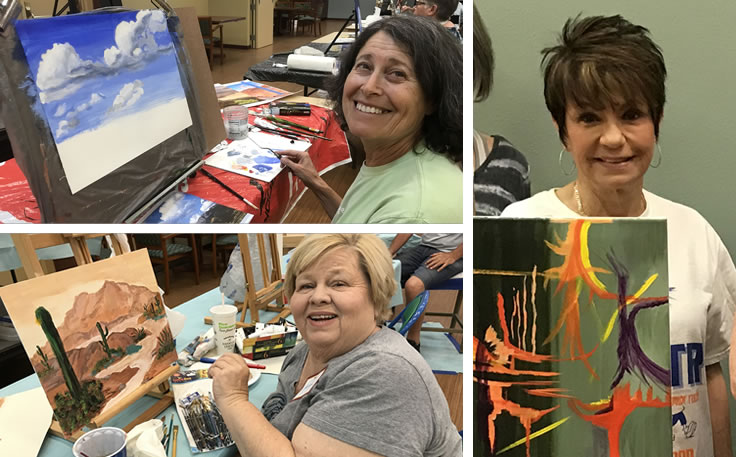 Intermediate Level – Acrylics!
July 2019
6 sessions: 12:30 p.m. to 3:30 p.m.
Tuesdays and Wednesdays, July 9 & 10; July 16 and17; July 23 and 24
Location: Tempe – Artist's Bldg.
Price: $180
Maximum class size: 10
A continuation for advanced beginners and intermediate level students. We will all paint the same image, and I will demonstrate my techniques. Contact me for the full class description.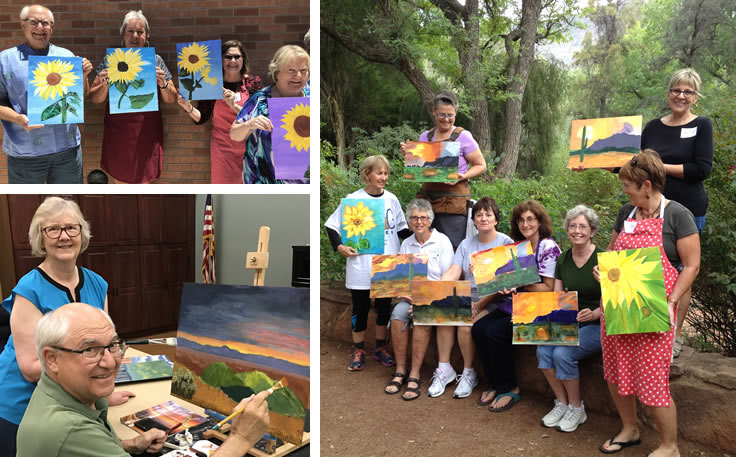 Private and semi-private classes. These can be scheduled in one or two hour sessions at mutually convenient times.
Sue Ann is happy to answer questions.
Please feel free to contact her at
480-982-1336
What Students Have Said
Over the years I've signed up for many art classes, but none that I enjoyed more than the one I took with Sue Ann Dickey. Beyond being well-structured and fun, she taught so many useful techniques I had never seen before. She also showed us many of her paintings broken down into the steps she took as she worked on them which I found most helpful in understanding how I could go about my own paintings. After her well-planned presentation, as she gave the students time to paint, I loved the personal attention and positive remarks she gave each of us. What an enjoyable teacher she is!
Bobbi K.
I have taken a number watercolor, acrylic and oil painting classes, including classes at Scottsdale Artists School and the Shemer Art Center. The classes I have taken from Sue Ann Dickey rank at the top of my experiences. She is a skilled artist and instructor. She is adept in explaining concepts and processes while providing inspiration and encouragement in a nurturing environment. I highly recommend her and will be first in line to sign up for future classes!
Nancy R.
Sue Ann is an accomplished artist and she knew how to teach. I was a teacher for 20 years, so I knew what she faced with that large class. She had a calm, cheerful demeanor. She communicated clearly and interacted with each person at their level. No one was ignored, and she kept it moving. I ranked her 'Excellent' in every category.
Anonymous ASU student review
Sue takes the pain out of painting. This is my third class with her. She's an amazing instructor and a genuinely nice person.
Anonymous ASU student review
In my opinion, she's the best painting instructor in the Valley.
Anonymous ASU student review